Where fun and speed are essential..................... slot cars 1/24 & 1/32....Blue King Track.... drag race track 1/8 mi....Rentals Available ....models....accessoies and repairs
---
Welcome to Race Lane Speedway. We are home of the 155 foot Blue King track.. Our estabishment sells all the parts and model cars you need. Coming soon will be the H.O.1/64th scale cars. Ask about our organized racing every Thursday evening and Sunday moring with drag racing Friday nights. Let us suppy you with all your racing needs. Contect us for more details. Also Tamiya mini 4WD Racing.
---
Do you love racing? Are you and your kids interested in racing slot cars as your hobby? We can help. Our Company can get you all set up. These are great 1/24 and 1/32 scale cars you can personalize with your own details. From Womp(1/32),Group 10, up to Group 7 cars and parts.
---
Dick Carbonneau
DCACOACH@aol.com
7901 4th Northwest
(505)898-4970
Albuquerque, NM 87114
United States
---
Come and see more of RACE LANE at
Noels slotcar page's: just click here

---
Click here for FREE thack time
FREE TRACK TIME: just click here

This page has been driven

times.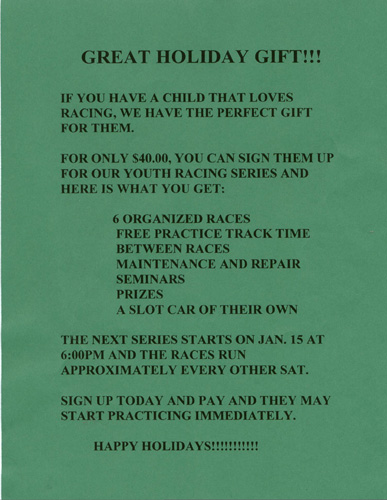 ---